During my research in the National Archives for more material on the Ploesti, Romania, oil refineries low-level bombing mission, I came across an original 8" x 10" print of this photo of Duke of Paducah. It's been published in books and on websites before, but I'm offering it here in significantly higher resolution than ever before available. I grew up across the river from Paducah, so I've always thought this was a cool bird.
(Click to enlarge)
DoP was damaged on her first mission, and was out of action for nearly a month before it was assigned to Lt Mendelsohn's crew. It was damaged in a ground accident on 30 Dec 1943, when another B-17 named "The Black Swan" taxied into it. You can clearly see in the photo above the broken bombardier nose bubble and the bent sheet metal where the other ship struck just above the nose turret. The pic below shows the damage in more detail.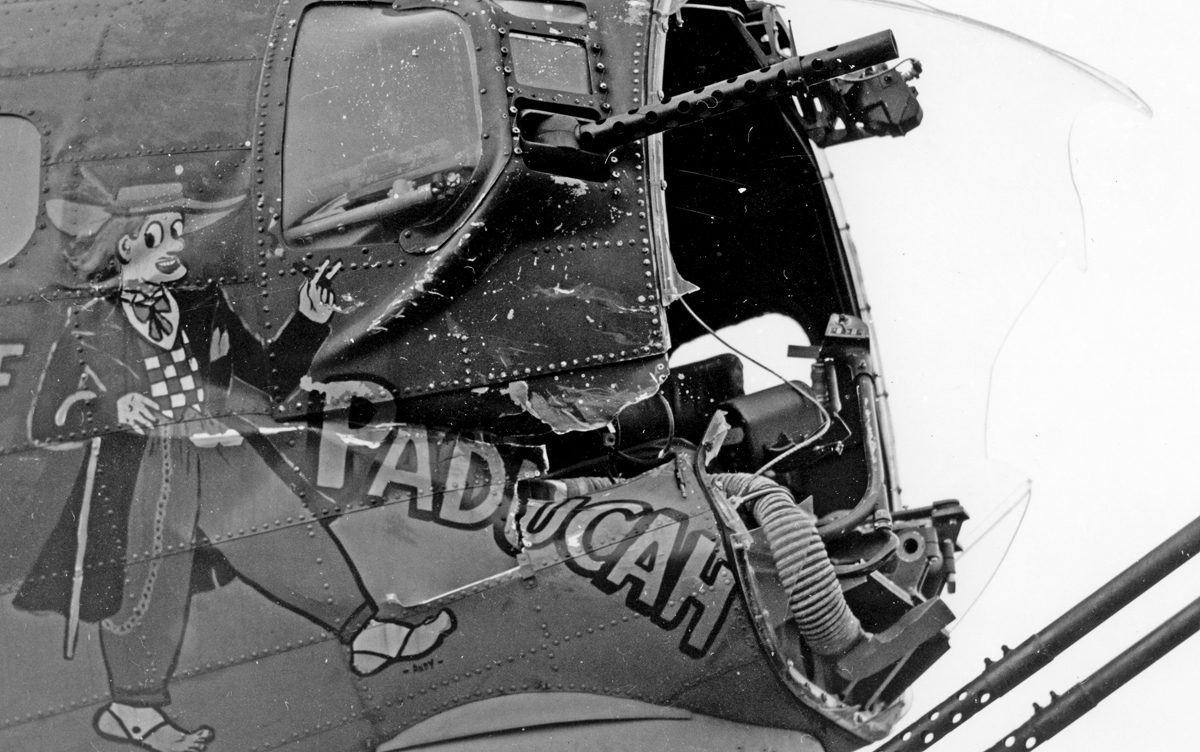 (Click to enlarge)

(Click to enlarge)
In an acute twist of fate, Mendelsohn and his crew were lost in combat the very next day on a mission to the Cognac/Chateau Bernard airfields in "The Black Swan."
While this aircraft was a B-17G-10-DL, it did indeed have a B-17F style top turret.
This ship's artwork was painted by the famous artist Tony Starcer.
She went on to complete 29 missions before being retired from combat due to battle damage sustained on a mission on 27 April 1944. The ship was eventually transferred to VIII Fighter Command and flew as a radio relay ship for the 67th Fighter Wing, still operating out of Bassingbourn. She was finally salvaged on 11 June 1945 after the end of the war in Europe.
FYI, here's the 1/48 decal set we did for this ship–have a few available.
B-17Gs " Tiger Girl" & "Duke of Paducah" There are ONLY 13 SETS AVAILABLE. You could pay the average eBay price well above $60 for this set, or . . . NOT! B-17F-75-DL, Tiger Girl (this is actually a late F with chin turret), 42-3555/N, 388 BG/560 BS; B-17G-70-BO, Duke of Paducah, 42-37736, DF*G, 91 BG/324 BS.


$22.97
B-17 Standard Insignia #1. Insignia used until August 1942, including 56″ fuselage and 74″ wing cocardes with separate red centers (Freeman "Type 1" US national insignia). These markings were used on B-17s from the start of the program until the introduction of smaller star/blue circle/no red dot cocardes in mid August 1942. This set also includes the "U.S. ARMY" for the wing bottoms in the correct Insignia Blue (they were NOT black!), as well as prop logos and Orange Yellow 15″ individual numbers for the fin serial. Note that officially, the red center dot was removed from US insignia as of 1 June 1942, so it's possible to see B-17s with the large "Type 1" insignia without the red dot! Please note that we have never seen documentation of a B-17E (including the prototype) with the red/white/blue rudder stripes, so they are not included on this sheet.


$14.97
B-17 Standard Insignia #2: August 1942 to June 1943. This set includes 50″ fuselage cocardes and 70″ wing cocardes (Freeman "Type 2″ national insignia), with separate 3″ and 6" yellow surrounds (Freeman "Type 2A"). It also includes optional light gray stars to replace the white stars in the insignia as was very frequently seen in the field. Prop logos and Orange Yellow 15″ individual numbers for the fin serial are also included. Note that the yellow surround to the cocardes was OFFICIALLY 2″ wide, but most photos we've seen show much wider surrounds. These were invariably hand-painted, and wide variations were seen. Please note that these yellow surrounds were NOT Operation Torch (North African invasion) markings as usually reported, but rather were in response to a British request to help make the US cocardes more visible in the ETO. Practically, the "Type 2A" insignia was only painted on aircraft until about December 1942, but some in-service aircraft carried the insignia after that date.


$12.97
B-17 Standard Insignia #3. June 1943 to September 1943 and even later. This set includes 50″ fuselage and 70″ wing stars & bars with RED outline for use until late September 1943 (Freeman "Type 3"), AS WELL AS the same size insignia with lighter blue (faded) cocardes with darker blue surrounds to represent Type 3 insignia converted to "Type 4″ insignia. The set also includes prop logos and Orange Yellow 15" individual numbers for the fin serial. Note that these markings will allow you to show accurate and high-quality star markings on any of your B-17 models from this period, regardless which decals you use, and that most 1/48 Cutting Edge and PYN-up Decal B-17 sets do not include national insignia so we can include the maximum number of specific markings in each set. *** Also please note that I will make the other three types of B-17 national markings (CED48260, B-17E/F Early Insignia (simple cocardes with and without the center red dot used through August 1942, with huge "U. S. Army" for the lower wings); CED48261, B-17E/F Early Insignia used from Aug 42 to June 43 (simple cocarde with and without center red dot, with optional yellow outer ring, and with optional "grayed out" white star); and CED48263, B-17E/F/G Late Insignia with the standard "star and bar" including optional "grayed out" white areas and optional red bars for postwar markings) available at a later time. I will also make available in the near future CED48270, B-29 National Insignia; CED48271, B-24 National Insignia (Early), and CED48272, B-24 National Insignia (Late).


$15.97
B-17 Standard Insignia #4: September 1943 to the 1950s. This set has the 50″ fuselage and 70″ wing stars & bars in Insignia Blue and Insignia White, and includes separate red bars for post-1947 B-17s. In addition, the set has optional separate light gray stars and bars to replace the white for "grayed out" insignia, which was often seen on B-17s, including Forts that left the factory in the natural metal scheme! Prop logos and 15″ black individual numbers for the fin serial. Note that this is the final B-17 national markings set out of the four we created to cover the entire operational history of the Flying Fortress; the other three sets were previously offered to you in past increments.


$15.97
---