Upcoming Ploesti DVD Set
Dragged Through The Mouth Of Hell:


Context To Heroism at Ploesti, 1 Aug 1943

. . . is my multiple DVD set scheduled for
release in the fall of 2011.
Important Ploesti Update #4
I'm excited!
Honestly, at this point in my life I don't get too excited about very many things. While my main professional work is interesting and fun and I have a good time, it's not often something happens that really lights my fire.
The 94-year-old man who painted much of the flamboyant nose art in the 98th Bomb Group (Snow White, Prince Charming, the seven Dwarfs, etc.) lives near Chicago. I flew out last weekend to interview him for my film history of the 1 August 1943 Ploesti oil refineries bombing mission.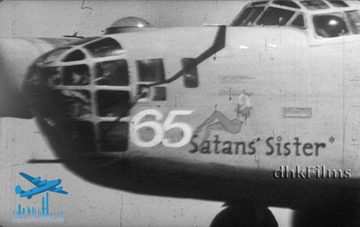 (Photo extracted from my Ploesti mission film)
We should all hope to be in as good of shape as he is at age 94—great memory, good eyesight, pretty good overall health, etc. Interviewing him was a remarkable experience (and, thanks to fellow modeler George Frisbee for helping set up the interview). You'll learn some of his stories in my films.
Speaking of film, I'm bowled over by the Ploesti and Ploesti-related film footage I've been able to unearth from various archives. While I certainly don't have every foot of Ploesti-related film that was shot at the time, I believe you'll see a massive quantity of dramatic film you've never seen before.
Here's a really short clip to whet your appetite:
Just got back from yet another trip to the National Archives and, once again, found a bunch of misfiled information about Ploesti.

(Nicholson Crew Final Target Map — White IV)
One of the items I found is the actual full-scale, full-color target map used by Robert G. Nicholson's and his crew in B-24D 42-63758/D "Lil Jughaid" at target White IV! Right now—and I might change my mind later—I'm thinking about including a full-size, double-sided, full-color copy of this map as a bonus for anybody who orders my Ploesti DVD set during the introductory period.
As you can see, I have a lot to be excited about!
I still intend to have my DVD set available in early October. I'll let you know when it's OK to order. Pricing not set yet.
---
PREVIOUS UPDATE:
There are times when I wish I were still creating new decal sets (but not often!). This is one of those times.
The Ploesti DVD project is coming along VERY well, and at this point I still intend to release it in early October.
I've now received tons of never-before-seen original film footage from the various archives. While I can't say how much you'll like it, I'm simply blown away by the very cool stuff I now have available. Some of it's been seen, but most of it is completely new, and even includes some color film too.
Everything from footage taken during the actual attack to tons of amazing nose art shots will be included.
Since I've had the original 35mm and 16mm film converted to HD video, I am doing considerable cleanup and digital remastering so the film you'll see is actually massively better quality than the original film. If you don't understand how this works, it's too complicated to explain here, but is simply friggin' magic.
One other technical note: I've had all the film converted to digital HD video. You may know that original 35mm film displayed in standard HD format creates that horrible "stretched out image" look you see so often in documentaries and on reality TV shows. I hate that look. Everybody's face is too wide, the airplanes look elongated and fake, etc.
So, we've taken extra steps to show you the full film frame in HD, but without the image stretching. The technology is too complicated (and frankly uninteresting) to explain, but you'll end up with the very highest quality image it's possible to have.
At this point I have only one more veteran to interview on video, and all the raw material will be in hand. The video interviews will be complemented by audio interviews I conducted in the late '70s and early '80s, when the veterans were much younger and had clearer memories of the events of the day. I'll even include excerpts from my own interviews with General Leon W. Johnson, who commanded the 44th Bomb Group (the Flying Eightballs) and won one of the five the Medals of Honor awarded for this fateful mission.
Anyway, as you can tell, I'm very excited about the story and how the project is coming together, and I hope you will be too. As I mentioned earlier, this will be a multiple DVD set to hold the several movies that will be included (but I don't know yet whether it will require two or three DVDs).
Pricing has not yet been set and it's too early to pre-order. I'll let you know when it's available.
---
Ploesti, Romania! Nearly 70 years after the mission, the name Ploesti still evokes a strong feeling of respect and amazement. Without doubt the most famous low-level bombing mission of World War II, on August 1st, 1943, 178 huge American B-24 Liberators took off from North African bases to attack the vast oil refining complex surrounding this picturesque old city.
As a serious student and researcher of the Ploesti mission since 1977, I have accumulated a large collection of original photographs, survivor interviews, official and unofficial reports, and inside information about the mission.
My video presentation will cover not only the mission itself (with much never-before-seen film taken on the actual mission), but also the entire context of the mission including the politico-military and economic background, the planning, the training, the mission itself, and the aftermath.
Among many other important historical facts, I'll trace the experiences of each of the five heroic bomb groups that flew the mission (44th, 98th, and 389th on loan from the 8th Air Force in England, and the 98th and 376th from the North African based 12th Air Force).
Because there's so much hugely interesting information to share with you, and nobody has time to watch a four hour long movie, I'm splitting all this great stuff into one overview movie and separate movies that go into additional detail on specific subjects. All these movies will be included in the same DVD set, of course.
More recently I've taken the time to dig deeply into the US National Archives and found the long-lost original pre-mission briefing films created by the mission planners. This remarkable series of films laid out for the combat aircrews the navigation, approach, targeting, and German defenses they could expect to face.
As I will describe in the video, these films and many of the other training innovations for this mission had never been seen before. The intelligence officers even built a detailed scale model of the Ploesti area. They then mounted a film camera on a child's tricycle and ran it across the diorama to show the aircrews the actual perspective they'd see during their low-level approach to their targets!*
And yes, these films will be included in their entirety on one of the DVDs in this set! Several other related films will also be included.
Stay tuned for more information as it becomes available! (Pricing has not been set at this time)
Dave Klaus
p.s.
If you still need to get to the "Heads Up!" page that I told you about a couple of weeks ago, click this: http://www.fineartofdecals.com/goodies/heads-up/
* A British intelligence officer who had previously managed one of the Ploesti refineries was even able to pick out the very villa where he'd lived on the model!
---